Lifetime Memory Products Corporate Profile
Since 1981, Lifetime Memory Products, Inc. has committed itself to the production of the industry's most technically advanced memory modules. Designed from the substrate level on up to meet the most demanding requirements of real-world computing, our memory was one of the first to offer a lifetime warranty.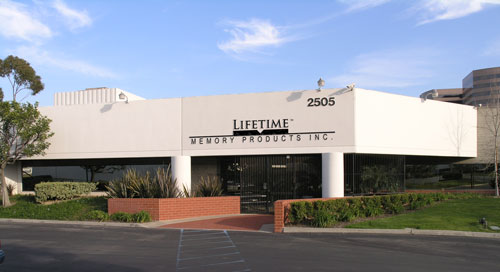 Producing state-of-the-art memory is a responsibility that our entire team shares. As a contract design and manufacturing firm, our in-house engineering team designs each of our products to exacting tolerances, while our production team builds and tests each module in our own domestic facilities for unparalleled reliability. Whenever possible, we utilize locally manufactured components so that we can work closely with the manufacturer throughout the production process to assure our customers of the highest quality memory devices.
To maintain competitive pricing, Lifetime employs the latest manufacturing, testing and distribution systems, while minimizing consumer advertising and packaging expenses. We take pride in focusing our resources on building quality products instead of developing useless marketing "fluff." As a result, our dedicated account managers and technicians are able to provide our reseller channels with factory-direct pricing on top-tier quality memory.
Our Facility
Lifetime's production facility, where all research, engineering, production and shipping functions are performed, is located in a state-of-the-art 16,000 square foot building in Irvine, California. Using the latest laser-guided, computer controlled assembly tools enables our production team to virtually eliminate defective products before they reach customers. Meanwhile, our Southern California location provides an ideal gateway for global product distribution.
We're there when you need us!
Strategically located just one quarter-mile from John Wayne / Orange County Airport, we can provide delivery of virtually any memory you need as quickly as you or your clients need. If you have an emergency, we can arrange for direct courier from our location to yours, across the U.S., for same-day delivery!
Advanced Expertise of OEM Memory Requirements

At Lifetime Memory Products, we work directly with manufacturers, like Apple and HP, to produce memory that meets and exceeds the specifications of their latest systems. Unlike those companies that rely on reverse-engineering in their efforts to create compatible memory, Lifetime works with systems manufacturers from the conceptualization stage to make sure that the memory implementation complements the processor, enabling it to fully utilize each CPU cycle and process data more quickly.
Reseller Advantage
As a manufacturer, we are fully committed to our value-added resellers and do not sell via web / e-commerce or directly to end-users. As a VAR, you can depend on our technical expertise to support your business and customers with the best, most reliable memory available at any price. Your customers need to be able to rely on your advice in recommending and providing reliable, cost-efficient memory solutions, and you can rely on us to make sure you have them.
Quality and Major Brand Parts - Lifetime uses only the highest quality, performance-tested chips from manufacturers such as Micron, Hynix, Nanya, and Samsung. Lifetime tests every single chip on every single board. When you purchase products manufactured by Lifetime, you are dealing with a company that has a world-wide brand name recognized for high quality. Unlike some of our competitors, we never use remarked, second- or third-tier chips. Your customers will ask for Lifetime Memory Products by name.
Availability - From the latest high-speed memory modules, to legacy SIMMs, Lifetime has the right parts when you need them. We maintain an extensive inventory at our plant on every part we offer so that when you place a purchase order, we can ship your order.
Service - We guarantee all our products to meet or exceed manufacturer specifications for fit, form and function. Our products come with a no-hassle, lifetime warranty.
Pricing - We offer pricing that cuts out the middlemen and eliminates the costs of direct consumer advertising. With Lifetime Memory, you can provide your customers with the highest quality products at economical pricing.
OEM Focus - Our ongoing communications with Apple, Dell, HP, and other companies at the OEM level means that our products are not merely compatible, they are designed specifically for optimal functionality with your customers' systems, providing performance benefits in almost every application. Your customers will experience the difference. (Apple, Dell, and HP are trademarks of their respective owners)